Mission: To educate, equip, engage, and empower women and girls to lead successful and safe lives.
Vision: Is to eradicate human trafficking, domestic violence, and unfair treatment against humanity through education and training, community engagement & policy advocacy, providing resources and housing for victims, survivors, and at risk youth.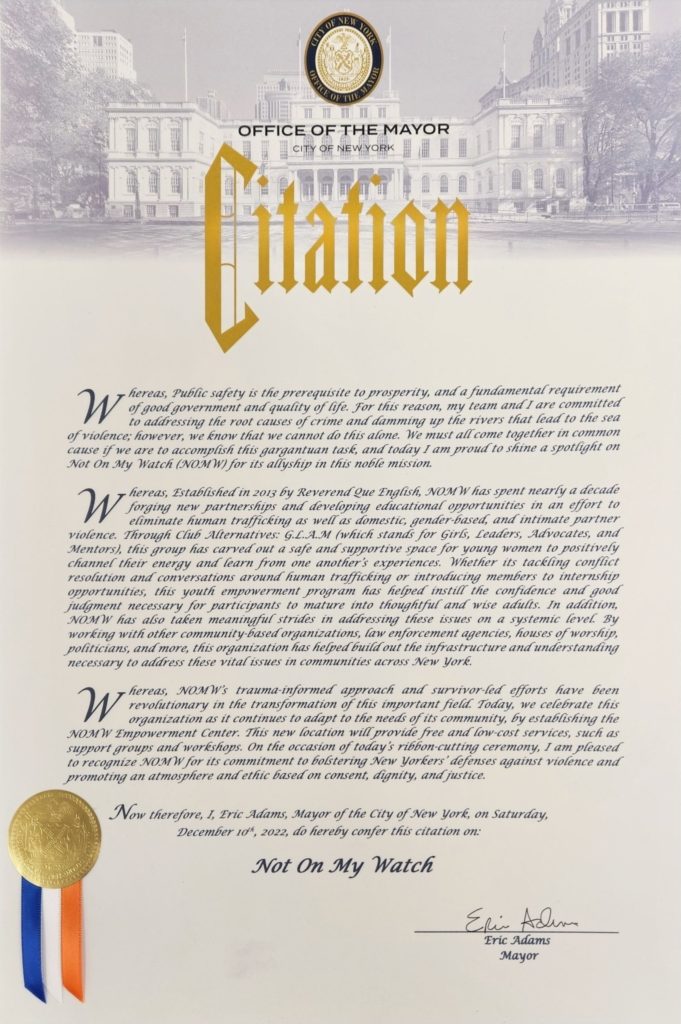 In 2013, Reverend Que English convened the New York City Clergy Roundtable Conference where public officials, community leaders and clergy members gathered to discuss the global issue of human trafficking and its impact on New York City.
NOMW Club Alternatives G.L.A.M. & G.L.A.M. Influences
NOMW Club Alternatives provides a safe, fun and supportive environment for young people to come together, hang out, chat, share their thoughts, concerns, and experiences with each other licensed therapist, life coaches, and unique mentors. We provide a wide range of workshops, training, community events and outings for youth between the ages of of 7-19 years of age.
NOMW Training & Empowerment Center
NOMW Empowerment Center provides a wide source of resources, activities, and training programs to the community, schools, faith based organizations and businesses in the areas of human trafficking awareness, domestic violence prevention, healthy relationships, financial literacy, perinatal care, breastfeeding, community health education, Doula, early child care, teen pregnancy prevention, women's health, career development, unique tea parties, clothing giveaways, and Friday night events.
Family Advocate & M.O.M. Support Group
Women & Family Support for ages 21- and up, in all stages of life.
NOMW understands that parents, guardians, and family members need support. Find comfort, understanding, encouragement, friendship, and laughter in the company of others who are in the same boat as you. Each meet-up is designed to help you through the difficult days, the parenting obstacles, the relationship challenges, all obstacles you're dealing with, and the celebrations of family accomplishments
TFNYC (Bronx) engages community based organizations, law enforcement, human service agencies, politicians, community advocates, and churches to pool resources to further a New York City-wide movement to eradicate human trafficking in our communities and bring thousands of children and young adults back home to safe places that can help them become productive citizens. Traffick-FREE-BX is the only community-led coalition that brings these entities together for the sole purpose of combating human trafficking. If you, your church, agency, organization is interested in joining the coalition, contact NOMW. It convenes monthly and is the only community-led citywide coalition that works together to focus solely on trafficking in NYC (Bronx) and is comprised of city agencies, service providers, survivors and faith leaders.
HighPointe Residences is a multi-tier housing model offering comprehensive service-enriched residences for youth aging out of foster care, victims and survivors of human trafficking, domestic violence and those involved in the sex trade.
Now is the time to get involved!
Help us combat human trafficking, and domestic violence, and empower women, girls, and our community by becoming a volunteer or joining one of our programs.
Become a Piece of the puzzle
You can make a difference for thousands of adults and children every year.
Together we can change lives - donate today.